Generation Z lives and grows in the digital and technological era, including the shifting of conventional modes of transportation into online. Even though there are various choices of modes of transportation that they use, online transportation brands are the ones that stick in their minds. It was driven by massive advertisements, campaigns, and promos for online transportation brands over the last decade.
Especially in the new normal situation and public activity restriction (PPKM) was revoked in December 2022, many activities that were previously all at home are now active again outside the home, although with some adjustments and still implementing health protocols. As can be seen, schools and lectures have started teaching and learning activities again, and even working in the office is re-implemented even though it is not five working days or what is commonly called the hybrid systems. From here, it turns out that habit pattern was formed in choosing transportation to support various activities outside the home, especially in the last three months.
With those fun facts, StratX Insight tries conducting a survey by focusing on Gen Z or students who live in the JABODETABEK area regarding their habits in deciding what transportation they choose to support their trips when doing activities outside the home.
It turned out that 77.1% of respondents chose the train when traveling, followed by private vehicles, private cars, and motorbikes. The majority who answered used online transportation, public transportation (angkot), walking, and campus transportation facilities. Besides, a taxi was in 5th position for the most frequently used when traveling.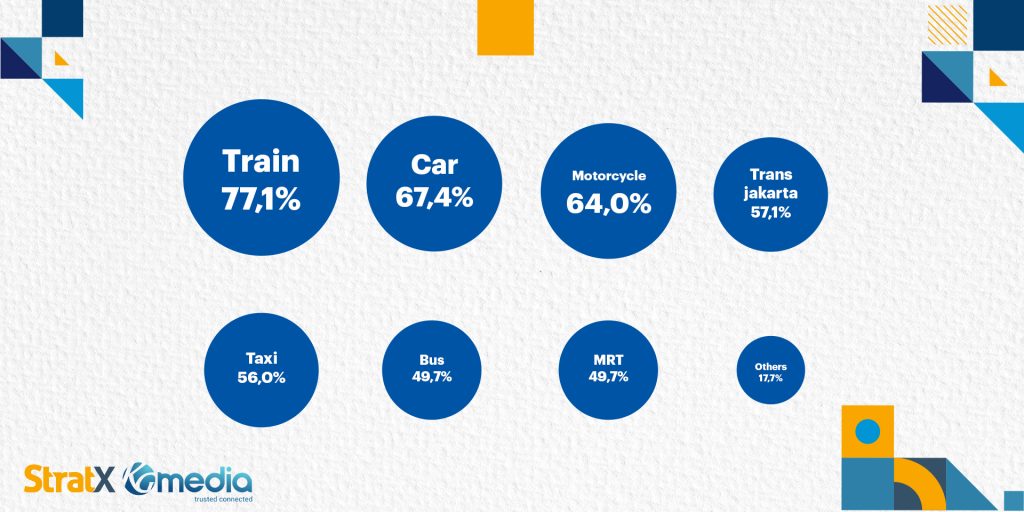 In addition, there are other interesting findings regarding the frequency of use of public transportation services in the last three months. The results obtained were 28.0% of respondents with a period of 1-2x a week, then 21.7% from the respondents with a period of 3-4 weeks. Meanwhile, the frequency of using a taxi or online taxi public transportation services in the last three months has been rare, at least once a month by 36.6% from the respondents, then 1-2 times a week by 31.4% from the respondents.
How did Gen Z decide to choose online or conventional transportation?
Awareness regarding transportation innovation is high
Gen Z are aware of what's going on around them. From the results of surveys and studies, Gen Z will choose their mode of transportation, and tends to find out through people closest to them who have experience, reviews, or testimonials on social media and sponsorship of campus events.
Gen Z chooses everything related to their core values
In addition, Gen Z decided to choose public transportation that was suitable for them, apparently based on four things, namely:
-time and day relating to considerations of duration, or time efficiency, to cost;
-weather conditions;
-destination;
-and with whom they travel.
Taxis are no longer a form of transportation only used for traveling at certain moments. Almost 50% of respondents admitted using a taxi to travel to/from school/campus/lessons. On weekdays, the most efficient mode of transportation, such as motorbikes, is preferred. Public transportation such as trains, Trans Jakarta, online motorcycles, or online taxis is also the choice on working days because they are considered to save time and money. On weekends, mobility tends to have longer distances, so private vehicles, conventional taxis, or online (car) transport are preferred.
Then if the weather conditions are heavy rain or hot and they trip with family or friends, they also prefer used private vehicles, conventional taxis, or online (car) transport.
Gen Z likes the familiarity between drivers and customers
The familiarity referred to the motivation of GenZ to choose a conventional taxi in terms of safety and comfort. Start with the driver's identity that matches the profile and license plate of the vehicle. Meanwhile, from the point of view of convenience, judging by the attitude from the drivers toward them. Gen Z prefers it when drivers take the initiative to talk to them. It fits with Forbes's research (2021) that Generation Z wants meaningful interactions with other people.
Gen Z is hunting for the instant promo
The conventional taxis are superior in safety and comfort compared to online transportation (4-wheeled). However, Gen Z is more motivated to use that because it is cheaper or always provides attractive and appropriate promo for them.
Brands can start by raising fixed rates and spreading relevant promo content on social media. Ex: creating content related to the format like "A Day in My Life" along with their reviews or testimonials on Tiktok, sharing innovations in transportation products that are more environmentally friendly, and so on.
For Gen Z, the conventional taxis can evoke nostalgia
Before online transportation has become massive, the mobility of Gen Z's parents or families was helps by the conventional taxis.
So that the memories formed of the conventional taxis that are safe, comfortable, and in excellent vehicle conditions, and most drivers well-known the road can evoke nostalgia.