Advertise and Sell in Offline Events: DON'T BE BORING!
The pandemic is getting under control. People want to go back and forth.
This means there will be many outdoor activities that can be held again, one of the most popular is the music festival. At the end of this year, more than ten events have been noted to be held. This indicates that the euphoria or enthusiasm of the Indonesian people is very high.
Music festivals are always loved by Indonesian, from solo concerts to performances that bring together many musicians.
The audience attracted by music festivals is also very large so that many organizations and companies are tempted to participate in sponsoring so that they can be glimpsed by thousands of eyes.
While music festivals can attract large audiences, sponsoring and sticking a logo is not enough. It takes an activity or experience that creates participation, so that the audience is 'sincere' to interact to create conversions.
The music festival was filled with stunning performances by musicians. To attract the attention of the audience, we must be no less stunning.
Therefore, in order for us to sell and attract attention, the rule is simple: DON'T BORING.
So, to create a participation that are not boring, we have to craft experience. Marketing a product through experience and interaction is nothing new. There have been many successful companies dong this way.
Here's how to successfully use experiential marketing to create engagement to conversion at music festival.
PINTU: Making Investment Attractive Through Stunning Installation
PINTU is one of the successful investment application in creating an eye-catching experience.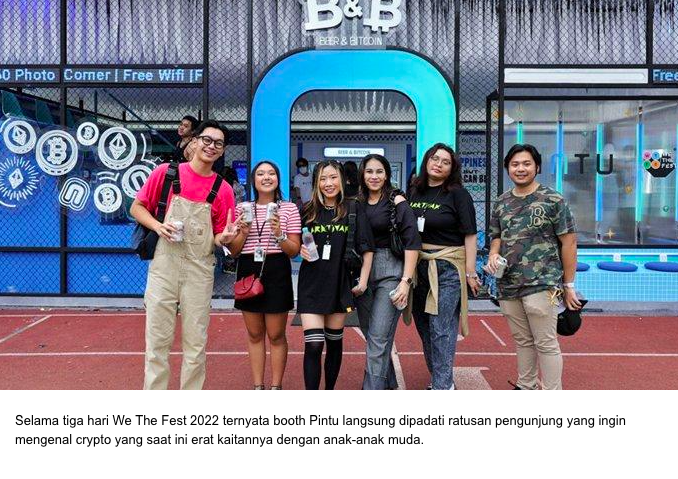 Instead of building a standard booth containing SPG that provides perfunctory vouchers, PINTU makes an installation where visitors can play get prizes.
The PINTU installation contains a spacious room that contains a mini-bar, photo spot, and a boxing machine. The photo spot is decorated like a ball bath. In the middle of the pool there is a point where visitors can take pictures with a 360-degree camera.
If visitors take photos and upload them on social media, they can get free drinks. Not only that, visitors who play boxing machines can also get crypto for free.
The crypto that obtained from boxing machines will be airdropped directly to visitors via PINTU application. In that way, visitors will be motivated to download and use the application in order to get the free crypto.
In the installation, visitors can also sit and relax while enjoying the free drinks available. There is also SPG's that educate visitors about crypto and the PINTU application.
Get the Attention, Play, Get the Hearts and Conversions From Consumers
Indirectly, PINTU introduces crypto applications and investment in a fun way.
By using games and prizes, PINTU can attract attention and conversions from visitors. They lies in these two words:
Key insight 1:
PULL. ATTENTION
PINTU is not only build booth, but also makes installations with eye-catching designs. With a beautifully designed installation, the can stand out among other brands, even among performing musicians.
Just attracting attention is not enough. After visitors are interested, our next task is to invite them to play or interact with an experience.
PINTU brings two experiences: 360 degree camera photo spot and boxing machine.
PINTU intelligently uses the love of young people to take pictures and have fun. But taking pictures is not enough, there must be something unique so that they want to take pictures. The uniqueness, of course, is the ball bath and 360-degree camera.
Not only on that way, PINTU also ensures that visitors will definitely be interested in taking pictures through the free drink prizes.
Visitors can get unique photos and drink for free, who can resist this value?
Then, if visitors have exchanged free drinks, they will definitely be curious about the presence of a boxing machine in the room. Visitors will then think: what can I get if I play the machine?
Here, PINTU offers another gift; free crypto. Get free crypto, but we have to download the app first to get it.
PINTU provides two experiences with different outputs: one experience for free drinks, another for free crypto.
Although there are two different experiences, photos and free drinks have the potential to 'take' visitors to the boxing machine experience. If a visitor has already received one reward, then they definitely want more rewards.
Here we can learn that in addition to experience, prizes, or rewards are also important to attract visitors to want to interact with the experience we have. Not only that, rewards can also create strong will so that visitors want to play with other experiences that we offer.
Key insight 2:
INTERACTIONS AND CONVERSIONS CREATED FROM EXPERIENCE AND REWARDS.
PINTU is not the only crypto investment application in Indonesia. However, PINTU seems to be trying a quite unique way to introduce its application to the public.
The presence of an investment application at a music festival sounds contradictory. But, PINTU takes advantage of visitors' desire to chill, take pictures, and play to attract attention.
We can learn that a company does not need to be 'connected' or on the same topic with an event. We just need to know who the audience we want to target, from there we can create experiences that are relevant to that audience.
Everyone loves to play and get prizes. This is a universal thing that we can use to create experiences at any event.
By playing, visitors will be more open to get education, and more interested in doing something; from providing contacts, downloading, to buying.
Key insight 3:
EVERYONE LOVES TO PLAY. CREATE SPACE TO PLAY.
To create an interesting experience, there is only one secret: CREATIVITY. So, are you ready to be creative?
If you are interested in collaborating with us to get deeper insight and effective strategy, please contact:
faisyal.firdaus@stratx.id
08118003404