Indonesia is slowly recovering!
Fast and equitable vaccinations and the application of strict health protocol rules have succeeded in making the pandemic no longer powerful. This condition restores hope for several affected industrial sectors, especially for the tourism sector.
The situation that is gradually recovering has made the Indonesian government begin to loosen up several health protocol rules. We are no longer obliged to wear mask in the open area, the level of PPKM in various regions are also decreasing periodically. This is a good news for actors in the tourism sector to get back into their business.
This optimism for the revival of Indonesian tourism is reflected in the increasing number of tourist this year. In February 2022, Indonesia received approximately 18.455 foreign tourists and this number increased significantly in July 2022 which reached 476.970 foreign tourists.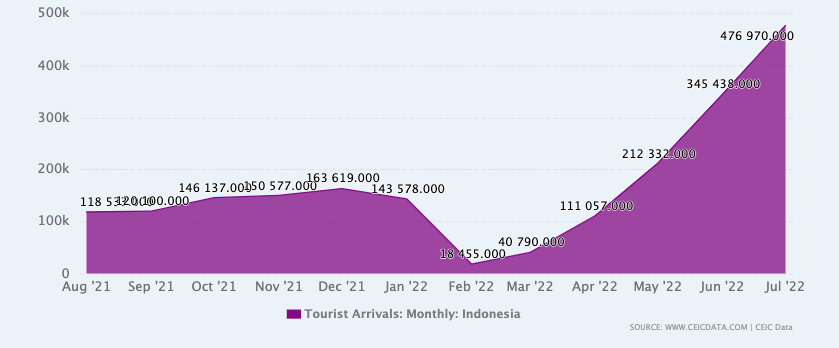 This increase is also in line with the data shown by the Central Statistics Agency (BPS). This massive influx of foreign tourists also affects the increase in the use of accommodation in various Indonesia tourist destinations.
This condition clearly shows that people think the pandemic is over. However, business actors in the tourism sector need to respond this tourism euphoria wisely and not rashly.
The World Tourism Organization states that tourism in 2022 is still in uncertainty. This is because no one has been able to feel for sure how the pandemic will develop. However, the WTO provides some predictions about future tourist behavior:
Foreign Tourist Want to Play Safe and Sound!
Foreign tourist tend to choose a trip that they have been on before. They want a sense of comfort because they have done the similar trip before.
The pandemic also makes foreign tourists a bit 'scared', they tend to be reluctant to carry out new explorations to remote areas because they are worried about their security and safety.
The foreign tourists tend to choose an open lace that presents a natural panorama. This is because an open place is considered to prevent them from contracting COVID-19.
Foreign Tourist Don't Want (Too) Commitment!
Health and safety are paramount in this new tourism era, so a flexible travel cancellation policy will be a plus for tourists.
Foreign tourists know that a healthy body is a mandatory condition for traveling. They understand that an excellent immune system will prevent them from contracting the COVID-19 virus. Therefore, foreign tourists hope that there will be more flexible policies regarding trip cancellations for health reasons.
Foreign Tourist Want to Travel as Expected!
Transparency of information will build tourists' trust to use the products and services of business actors.
Foreign tourists want a trip that provides them with an extraordinary experience, or at least the experience meets their expectations. It is highly recommended that business people in the tourism industry can start by providing information as clear and transparent as possible.
Foreign tourists do not want to lose, they feel they have spent some money for it. Therefore, foreign tourists tend to do in-depth research and search about the destinations and accommodations of the tourist attractions they want.
Post-Pandemic Foreign Tourists, Eco Friendly Foreign Tourists
Foreign tourists care about the condition of the destination to be visited. Destinations that respect environmental sustainability are an attraction for them.
Foreign tourists who will travel in the post-pandemic era are more concerned with the environment. They want the tourist destination they visit to maintain and preserve the surrounding environment.
The foreign tourists think that environmental sustainability is something that must be maintained together. They assume that if environmental sustainability is not well-maintained, then the sustainability of a tourist destination can be threatened. They are afraid that will not be able to come to the same place again in the future.
Shifting From Mass Tourism to Quality Tourism
One of the major changes in the post-pandemic era is a change in the type of tourism. There is a shift from mass tourism to quality tourism.
Now, foreign tourists tend to avoid tourist attractions that rely on a massive and crowded number of tourists.
Foreign tourists want to find destinations that are more intimate, exclusive, environmentally maintained and can be customized according to their needs. Not only like that, the uniqueness of tourist attractions is also a consideration.
KEY INSIGHT
FAMILIARITY AND COMFORT IS THE SUCCESS KEY TO TOURIST DESTINATIONS
Foreign tourists tend to want to play it safe and sound. Therefore, as business actors, we must provide familiarity and a sense of comfort.
Predictable things such as halal elements, ease of transportation, security, and access to personal needs such as shopping places, places to eat, toilets, and ATMs, must be considered by business actors.
Comfort can also come from flexibility. Foreign tourists tend not to be too committed. The rules for refunding travel and accommodation costs should be more flexible so that tourists can rearrange their travel plans.
Completeness and transparency of information can create a sense of comfort. No tourists wants to lose. Therefore, tourism actors must communicate information about tourist destinations as comprehensively as possible.
Sensitive matters such as price, accommodation, and facilities must be explained as transparently as possible so that tourists' expectations are maintained. Business actors must maintain expectations so that tourists want to spread positive testimonials to their friends or relatives. Bad word-of-mouth will discourage tourists from visiting.
In an era where the majority of tourists have social media and smartphones, word-of-mouth is easier to spread, not only through 'word' but through photos and videos. Tourists expectations are as important to maintain as environmental sustainability.
If you are interested in collaborating with us to get deeper insight and effective strategy, please contact:
faisyal.firdaus@stratx.id
08118003404