As we all know, the pandemic has not been over yet. We still see various problems come and go, such as new positive cases of Covid-19 that continue to increase, the ambiguity of government policies in implementing health protocols, to vaccines that have not been proven to accurately cure the disease. These situations have led society to grow bored and tired in the face of the pandemic. Plus, they also have to survive with economic pressures starting to enter the brink of recession. Not only that, the Job Creation Law policy emerged, which drew a lot of criticism, even harsh rejections. All of these then accumulate, which make people definitely need an escape.
A reassuring escape route in the face of the pandemic has been crucially needed. Sports and continuing hobbies have been always the first choices. However, the data shows that hobbies and sports are not the only options, there is online shopping as well. This is the new habit of society to entertain themselves, especially among the middle and upper classes.
Before the pandemic, people used to entertain themselves by shopping at the malls, to buy fashion products, and just hanging out or eating at their favorite food stands. Since the pandemic, the habit has not been practiced normally anymore. On the positive side, there is an awareness of self-protection to avoid the crowds. Being timid but wanting to enjoy the mall's products, people choose to go shopping online, as they should be accustomed to shopping at the malls.
As the consequences of the pandemic and the recession pressure, logically, online shopping for basic needs such as food, health, and groceries take the priorities over other needs. However, the data shows that fashion, food & beverage, technology, and cosmetics products are excellent compared to basic needs. The people seem to be "wrongly focused" by putting aside basic requirements that should be prioritized rather than needs that "later" can be purchased.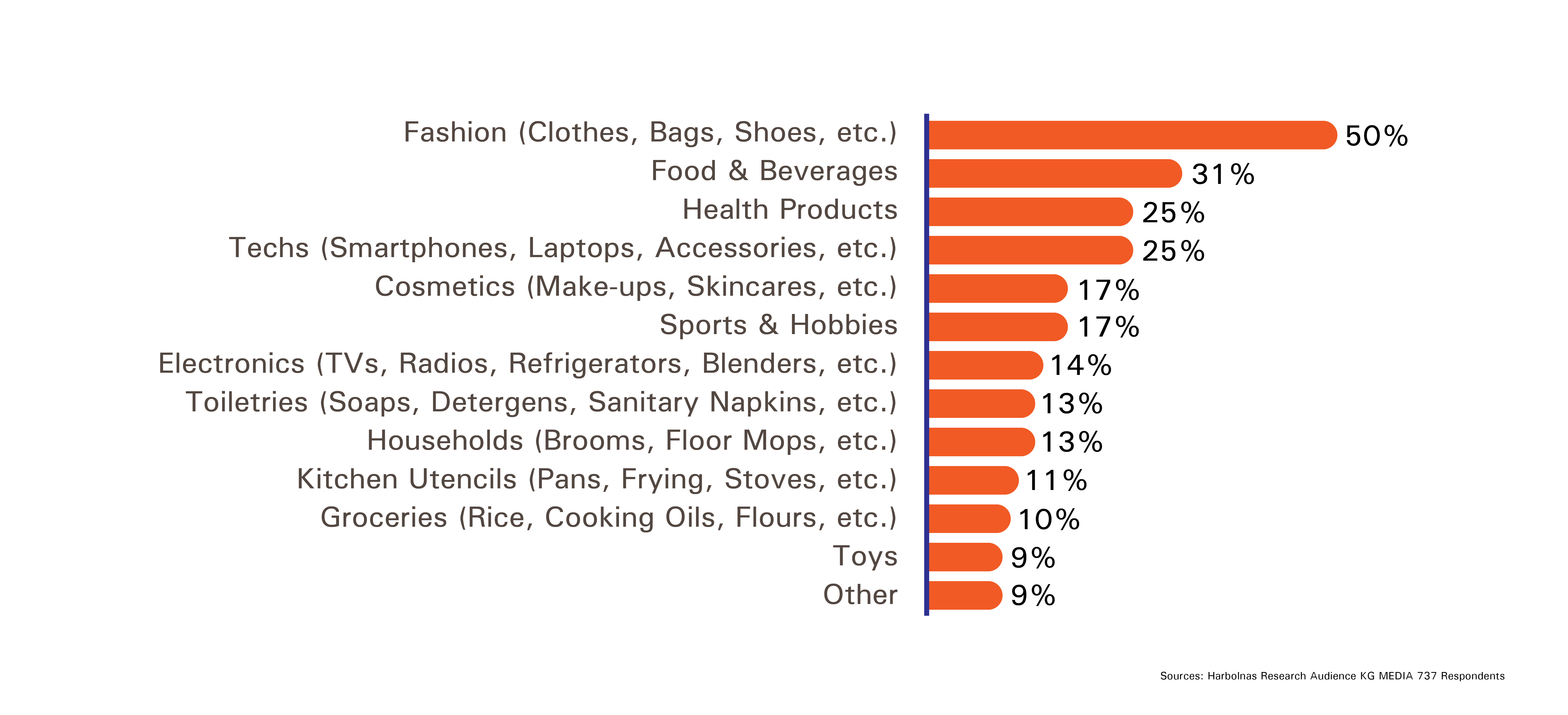 Another "wrong focus" can also be seen in people's shopping behaviors when there are some massive discount promotions. Products hanging around the discount pages get easily purchased, even though they are not essentially needed or coveted. Again, these happened possibly because of an escape act, to entertain oneself, and to create a peace of mind.
These also happened on the National Online Shopping Day (Harbolnas) 10-10-2020. Various well-known brands have waited for the moment, such as; Cotton On, Uniqlo, and others (Source: Kompas.com). These brands know that home clothes and pajamas are examples of favorite products to buy during the pandemic. So, they make the most of them during the Harbolnas moment.
Apart from clothing, technology is also essential during the pandemic. Main activities such as work and school require sufficient technology devices such as laptops, computers, cellphones, and various other gadgets. The right technology is also an essential factor in supporting work from home (WFH) and school from home (SFH) activities. Likewise, to be a means of entertaining during breaks and other activities at home.
Interestingly, the online shopping behaviors during the pandemic have been varied depend on the areas where people live. Jabodetabek and non-Jabodetabek communities exhibit different types of "Escape". The Jabodetabek people entertain themselves by buying fashion necessities, food, and drink for hobbies and sports currently being carried out. Unlike the people in non-Jabodetabek, they invest (if they don't want to be said to spend) their money to buy technology products, which in value are quite a drain on a large percentage of funds for them and in the current uncertain times. There are 25.4% of non-Jabodetabek people who spend their money to buy technology during the pandemic online, which is slightly bigger than the Jabodetabek people (24.5%) and more significant than their health needs expenditure (20.5%), which have been assumed during the pandemic more essential to buy.
Looking at the patterns of online shopping during the pandemic, it becomes clear that online shopping is interpreted by people not only to buy necessities but as an escape to entertain themselves. Because of the accumulation of things that have been squeezed due to the pandemic, the getaway routes have become some necessity so that people can remain mentally healthy, and carry out their daily activities smoothly.
These can be seen as opportunities for brands. There are opportunities to create attractive essential products. The brands can make people more aware about the importance and quality of their products. If people are more aware, they will purchase essential products before buying other consumptive ones by some other brands, and this will make them loyal customers.