COVID-19, a pandemic predicted by Bill Gates in 2015, could cause all humanity in any part of the earth to feel fear and panic in uncertainty. The lack of guidance or advice that can reduce the spread and death rates then make people flocked to search for all kinds of information whose truth is still being questioned. This was then able to cause the spread of miss-information to become even more confusing. On April 9, 2020 there was 492 hoax news related to COVID-19 that broke out in the social world. The implementation of social and physical distancing that moves daily activities inside the home certainly brings deeper confusion. Not only people who feel confused, brands who want to have a plan in marketing their products are also confused to deal with this situation. For this reason, in a survey conducted in 2103, respondents who were spread across Jabodetabek and non-Jabodetabek areas in the early days of the Work From Home (WFH), KG Media found some interesting insights that were able to navigate the brand in dealing with this situation. Following are the insights we got:
INDONESIA NEEDS RIGHT INFORMATION
In an online survey conducted by KG Media there are about 21% to 23% of people who are still confused and panicked in anticipating the dangers of a pandemic that might threaten life. They are still active as usual, still walking around using private vehicles and even hoarding essential goods (goods for daily necessities).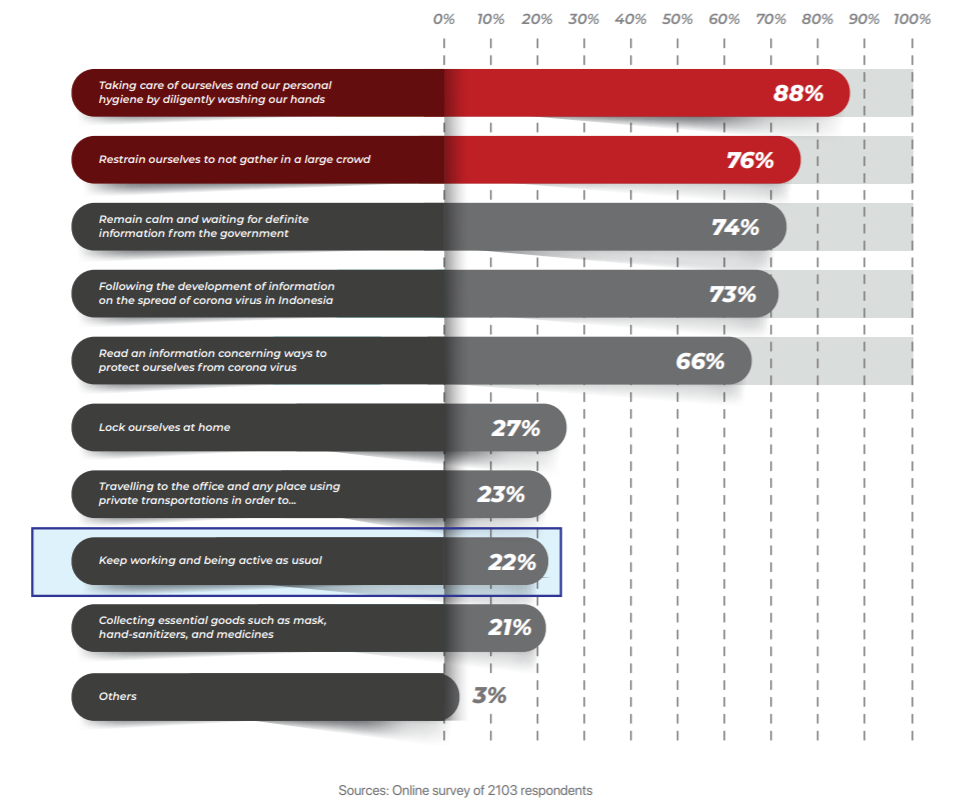 The Acceptance and Respond of Indonesian Society
This relates to the main source of information obtained by the majority of respondents is social media and chat applications that still need confirmation of accuracy.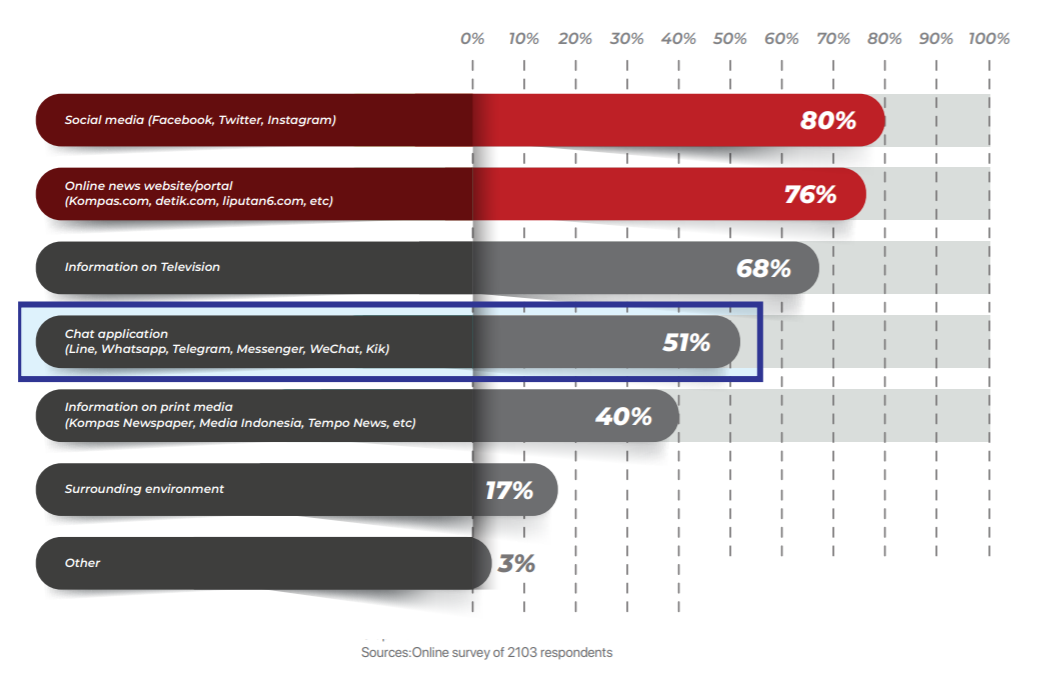 Channels for Getting Information
For this reason, the role of the brand is needed at this time, namely that the brand can be an introduction to the message of goodness by spreading good and contextual information by:
Spread good messages to uplift your enthusiasm and happiness, as did Coca-Cola, which spreads social restrictions messages through various formats and content or Popeyes fast-food restaurants that use social moment moments to provide free Netflix application passwords for consumers to stay at home.
Create content that helps families deal with a pandemic. This relates to the data found that the mother plays an important role as the front guard to protect the family by cooking healthy food, being a facilitator of children's learning to entertaining family members who are at home. This of course requires mothers to get a lot of informative and useful domestic information to maintain family stability.
INDONESIA NEEDS TRANSFORMATION PARTNERS TO 'ONLINE EVERYTHING' AND BECOME A PROPER ENTERTAINER
The government's call for activities at home changes the lifestyle of most people. From 2103 respondents there were 86% of the people who followed the government's invitation to carry out activities from home. This changes human life where before all pandemics both work and study activities that are usually done face-to-face but are now carried out online through various online applications. Workers adopt various online meeting applications while students adapt massively online learning applications during a pandemic to replace work and face-to-face learning activities that are normally carried out daily.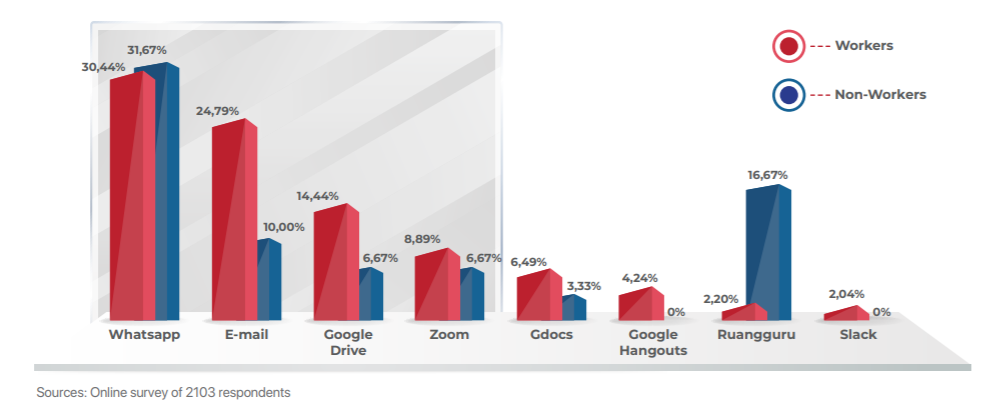 Applications used by workers and non-workers during WFH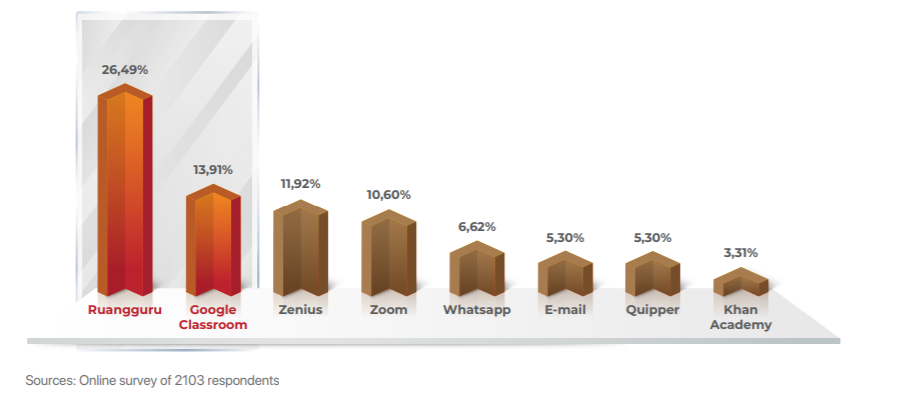 Applications used by students during WFH
In addition to learning activities, most respondents also adapted various online entertainment applications that move the activity of watching movies and watching concerts at home. They download the Netflix, Spotify, and Games application at home.
Moving work at home activities that accelerate the massive adaptation of the use of online media and then create brand opportunities to become partners of transformation into an all-round online and solace to entertaining the community when working and doing activities from home.
INDONESIA NEEDS SOCIAL MOVING SPIRIT TO HELP THE LAYERS OF SOCIETY WHOSE ECONOMIC SITUATION IS DISRUPTED
The invitation from the government to carry out activities from inside the house was not fully obeyed by all respondents. 14% of respondents are still carrying out activities outside the home. They are non-formal workers who are forced to carry out activities outside the home. The uncertainty of government policy also makes the community in some areas continue to carry out activities as usual. Not only that, but there are also several layers of society in the informal sector, such as traders and small entrepreneurs who are forced to keep selling to make a living. Therefore, workers in the informal sector should be assisted. From this, several celebrities and influencers carried out many social movements to help fight the spread of COVID-19 through various fundraising and donation actions. For this reason, a time like this can be interpreted by the brand as a crucial investment to participate in social activities, because the humanitarian crisis will always be a collective memory of a generation. Anyone active in a positive way will always be remembered and become part of the history of that generation.
From the three key insights gained by KG Media based on the survey results, it is expected to be navigation for brands facing a pandemic. The COVID-19 pandemic raises the awareness that we face this crisis not as individuals but as fellow human beings. Therefore the brand must contribute to spreading the truth, creating better, and helping ease the burden of others.
Download whitepaper here.