Financial management in each individual must be considered carefully. Because if there is no knowledge to manage finances, it is predicted that there will be problems in the future. However, Indonesian Gen Z is considered that they are smart enough to manage their finances.
In the range of 11-20 years, Indonesian Gen Z is now quite adept at managing their finances. The main reason why they can be smart in managing finances is the role of a mother in the family.
A mother is at the forefront of educating the child, including when teaching how to manage his finances. Then why do mothers teach their children from an early age? Is there a specific goal they would like to achieve as parents?
For this reason, StratX KG Media conducted research and found various interesting findings related to the matters above. Based on the StratX KG Media survey results from 146 audiences, they found several interesting points for brands, especially brands in the banking and financial sectors, to take part in the process of how a mother teaches financial literacy to her child.
Teaching Financial Literacy Early
Ensure Children's Future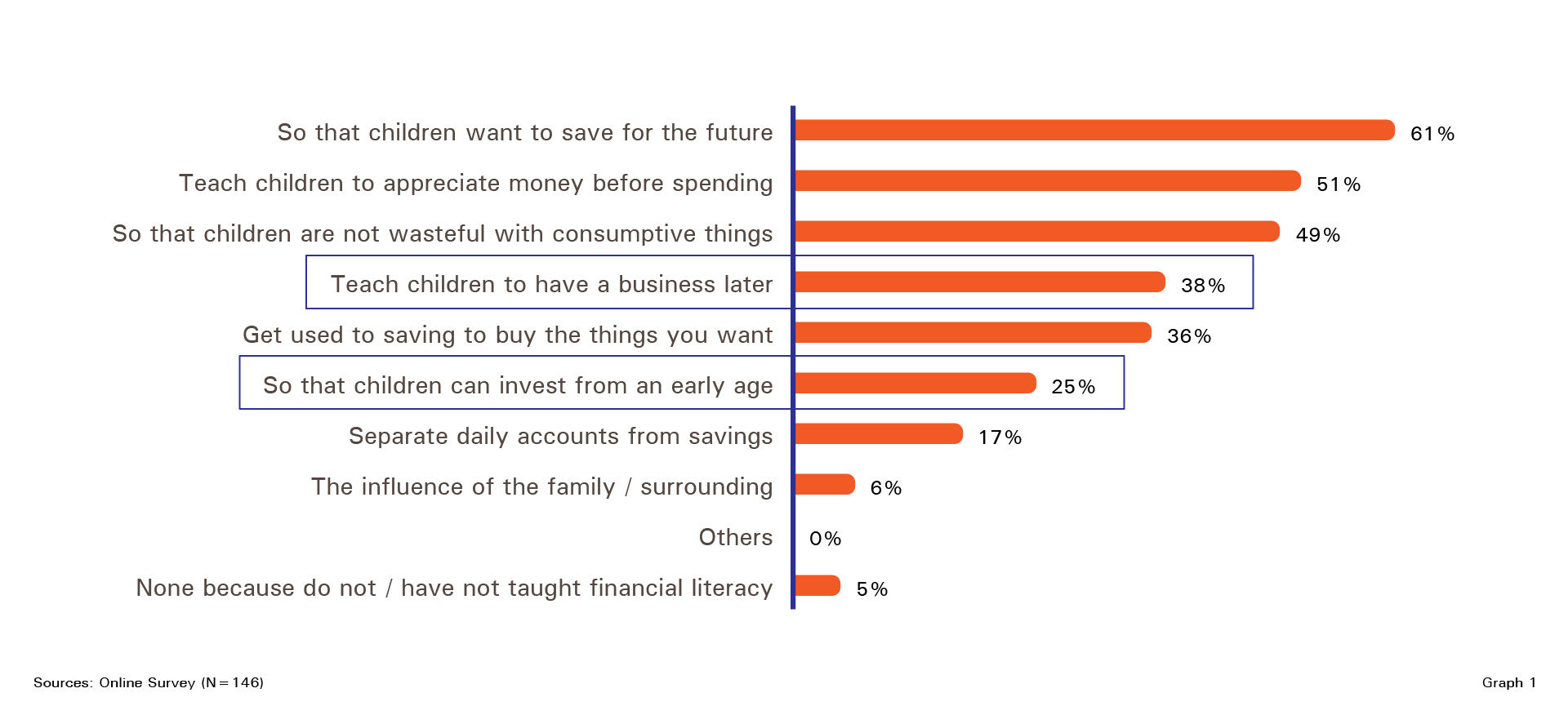 Of course, there are strong reasons why a mother wants to teach her child how to manage finances properly. Based on the first graph above, it shows the various reasons why mothers teach financial literacy to their children.
An interesting insight from the first graph above is that it turns out that there are some mothers who teach how to manage finances to their children so that they can own a business or as well as various forms of investment.
Saving is indeed one of the easiest ways of financial literacy to be taught to a child. However, it turns out that behind this, a mother wants her child to have a guaranteed future.
And owning a business or various form of investment are one of measurements for mothers to guarantee their children's future. Still related to the first chat, this second chart also supports the insights above.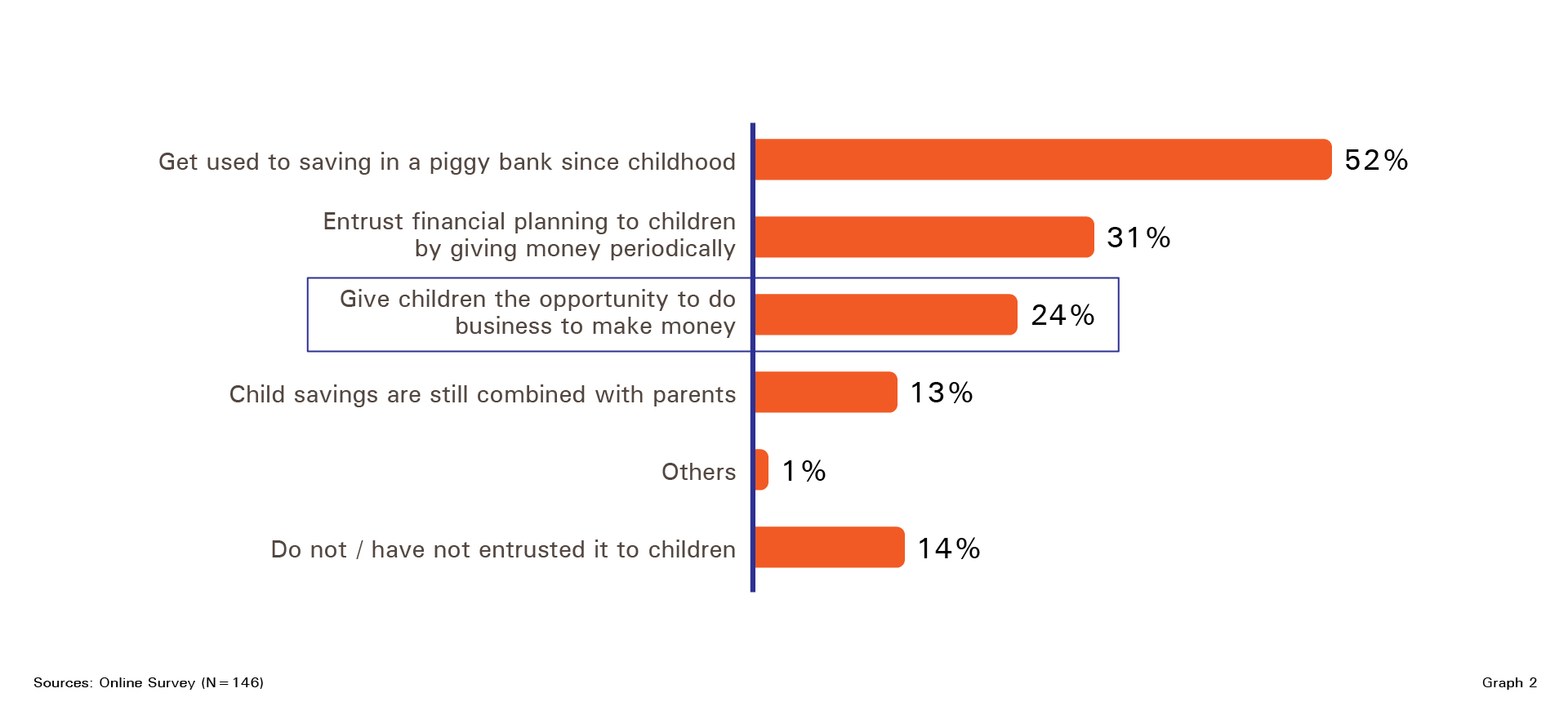 This second graph shows how a mother's access to teach financial literacy to her child. Generally, they save money and try to give money to the child for a certain period of time to give them the opportunity to arrange it themselves.
However, another interesting insight is that there is an unusual way for mothers to teach financial literacy to their children. That is to give them the opportunity and confidence to try a business or investment so they can make their own money.
This way is quite unique because there are several benefits that a mother can get. In addition to making the children smarter in managing their finances, they also teach children to be independent. It is because they can make their own money. This way also considered as an effective way to teach them how to managing finances properly.
Still related to the second graph, the third graph below also supports how a mother wants her child to be independent from an early age in managing finances, even indirectly teaching them to have their own business.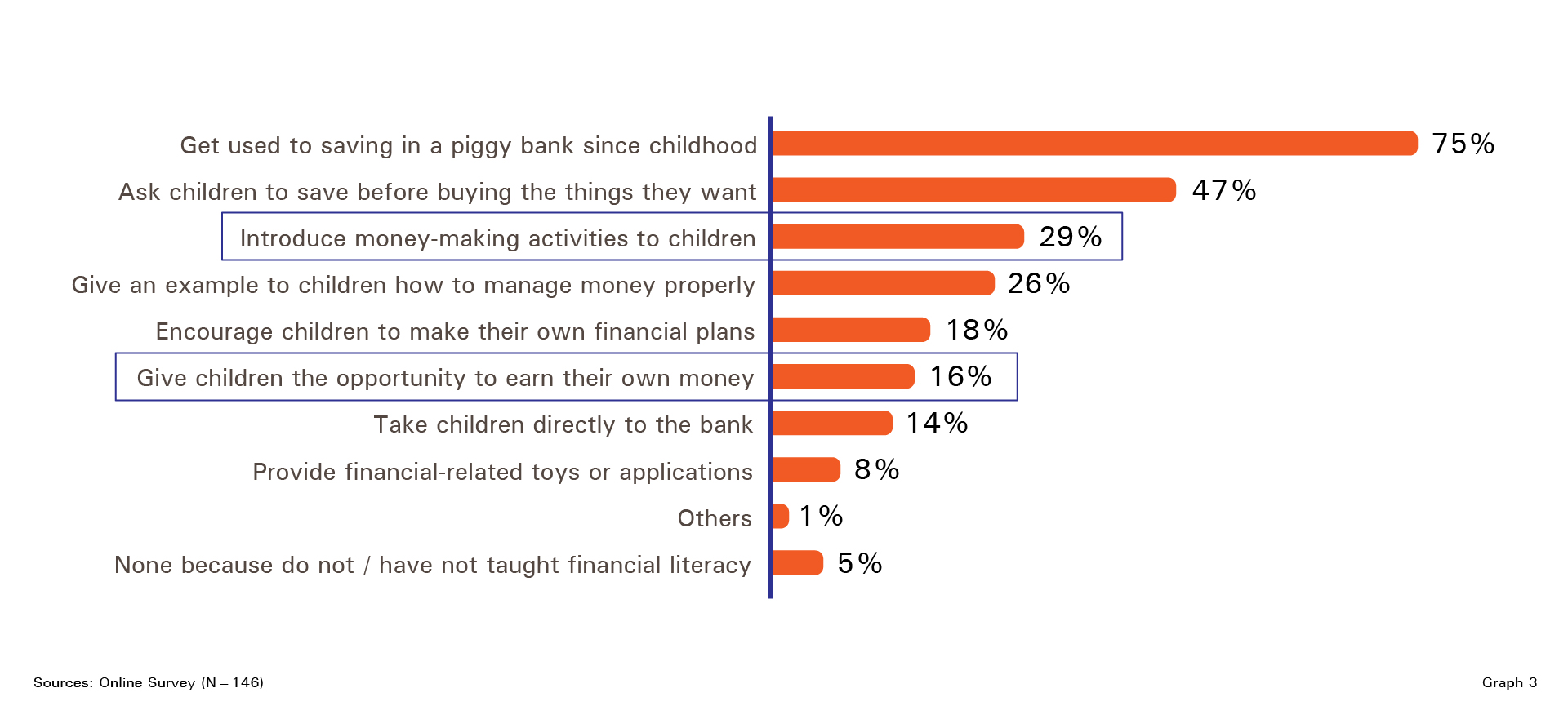 From this third graph, there is an interesting insight where mothers also introduce activities that generate money to their children directly. This shows how enthusiastic a mother in preparing their children to be independent from an early age.
Introducing simple activities that make money to children can certainly be as simple as taking them to the market. Where there is buying and selling activity which of course also shows the circulation of money there. There is an expectation from mothers that by introducing the activity, their child will be aware of how to manage money and also how they generate more money by themselves.
Then, How Can Brands Tap in to These Conditions?
The enthusiasm of mothers who teach their children how to manage money properly and even how to make money again certainly shows the spirit of parents who want their children's future life to be guaranteed.
Parents of course still have the responsibility to give everything for their children. However, financial literacy is considered equally important to be taught from an early age. Besides being able to manage finances, having a business or investment becomes a separate "savings" for the child.
From the various interesting insights above, of course brands in the financial and banking sectors can take part in this condition. Brands can be guides for mothers who teach their children about financial literacy.
To be a good guide, of course communication and all related products and services must be prepared in advance. If it's ready, of course the form of communication which can be in online training or webinars, forms of educational content related to financial literacy for children and many more – can be done by brands.
In this communication, brands can tune in to the products or services they have. Here, of course, the purpose of the brand that wants its product or service to be used as well as the goal of mothers who want their children to be able to manage finances until they have a business or investment can be realized.
This synergy can certainly be done well. Communication is a fundamental thing to pay attention to. Therefore, brands can now start thinking about what forms of communication will be brought to mothers who are preparing for their children's future.
For more information contact us here or visit us in stratx.id.