This pandemic that has not ended has created tremendous pressure for all circles of society. One of the rules for preventing transmission of COVID-19 is to stay at home, as if it is such a boring thing for all of them.
Limited space. This applies to both men and women. Moreover, those who go to office now have to work from home. The term is work from home or abbreviated as WFH. But being at home constantly will certainly cause a great sense of boredom.
Especially for women who usually reward themselves with body treatments at salons, spas or similar places. For the time being, they are only doing body care at home. Of course, the results are not like when going to the treatment center.
When it comes to body care for women, StratX KG Media sees this as an interesting thing to know more about. Therefore, we conducted research with an online survey and found 1153 respondents, which were divided into four groups, namely housewives, workers, female student, and not working yet.
From the research we have done, there are a lot of interesting findings or insights that can be known by brands, who have body care products or services and have target audience such as these four groups. To find out more, please see the discussion this time.
There is a Problem That Needs to be Fixed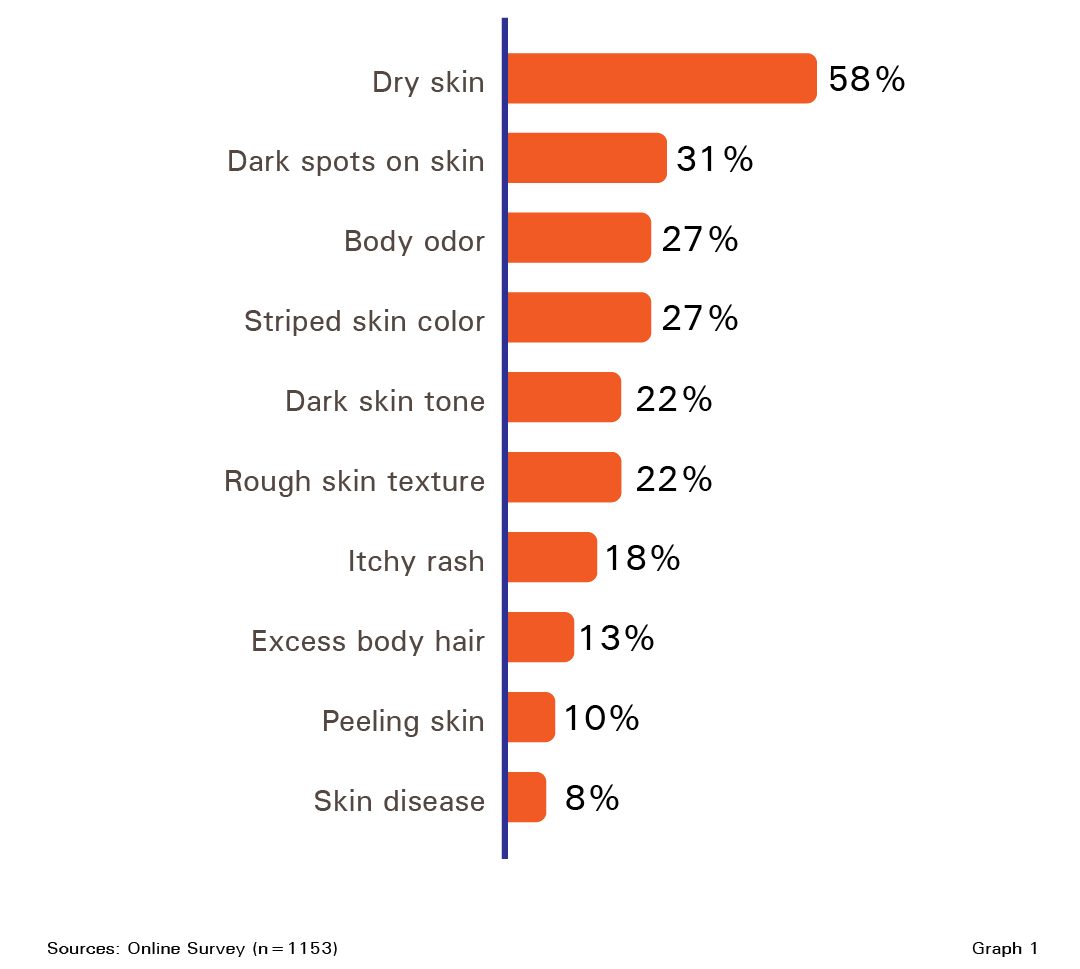 Body care carried out by women is not solely based on their desire to be more beautiful, more charming and more. There are things that fundamentally make them perform body care.
It turned out that there were various skin problems, in particular – that they wanted to fix on their bodies. Like the first graph above, which shows that dry skin is the main problem of our respondents. This can mean that they want a healthy body first. Based on these various problems, they want to carry out various types of body care.
Regarding the pandemic and all its regulations that make them think again about going to the salon or their regular nursing home, women are currently doing their body care at home using various types of body treatments.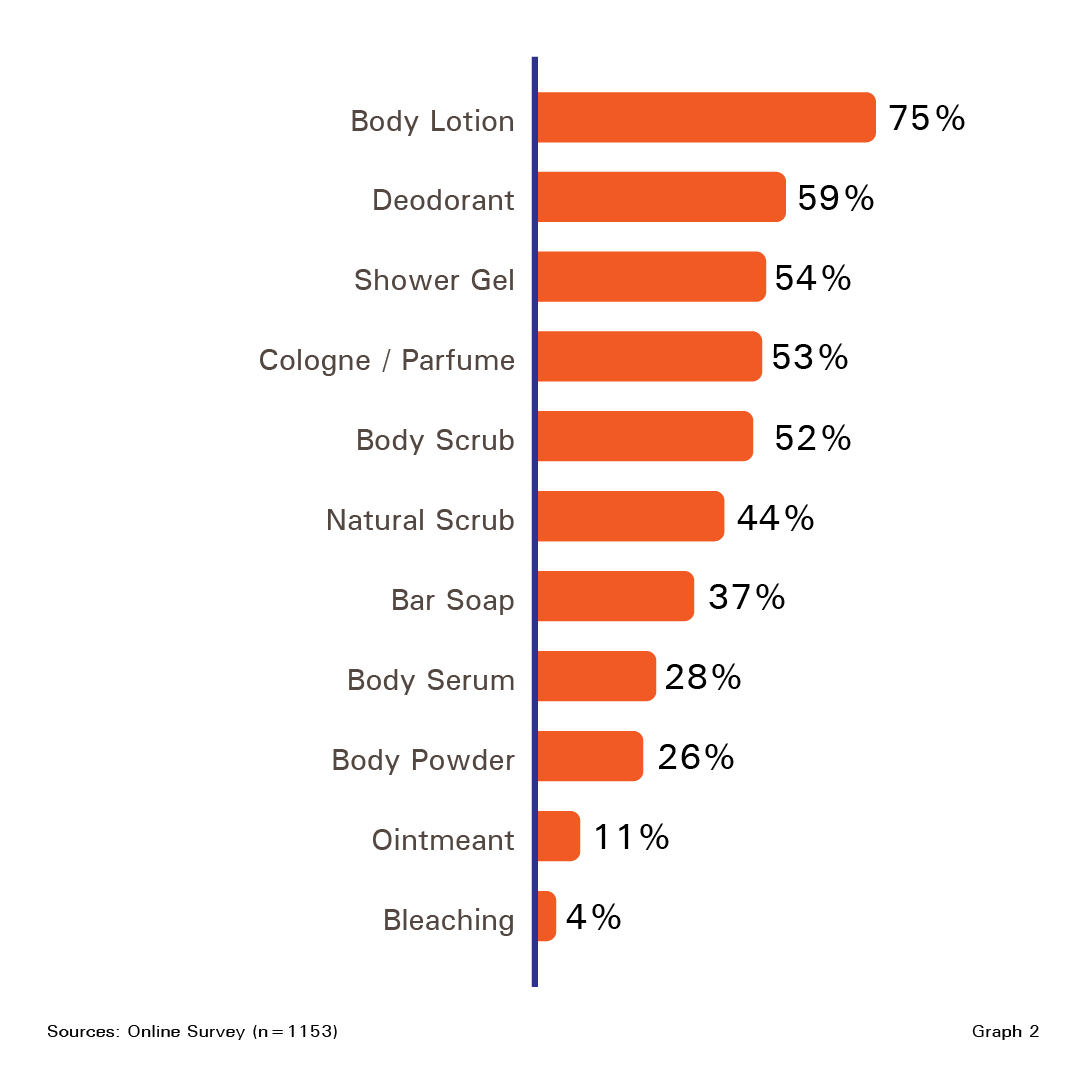 As can be seen in the second graph above, the type of body treatment that is most widely used by women is body lotion. This refers to a major problem for previous women's skin or body where dry skin was their main problem.
Meanwhile, body lotion can moisturize dry skin. This is what makes using body lotion the type of body treatment most often used by women. For the same problem, there are body scrubs, and similar treatment becomes another option for women to deal with dry skin. Because they are at home and have a long time, these two types of body treatments are also a mainstay of women.
The insight of the findings is that quick body care becomes the choice of women at home. Most likely this happened to balance their other activity that needed to be done at the same time.
Considerations for Buying Body Treatment Products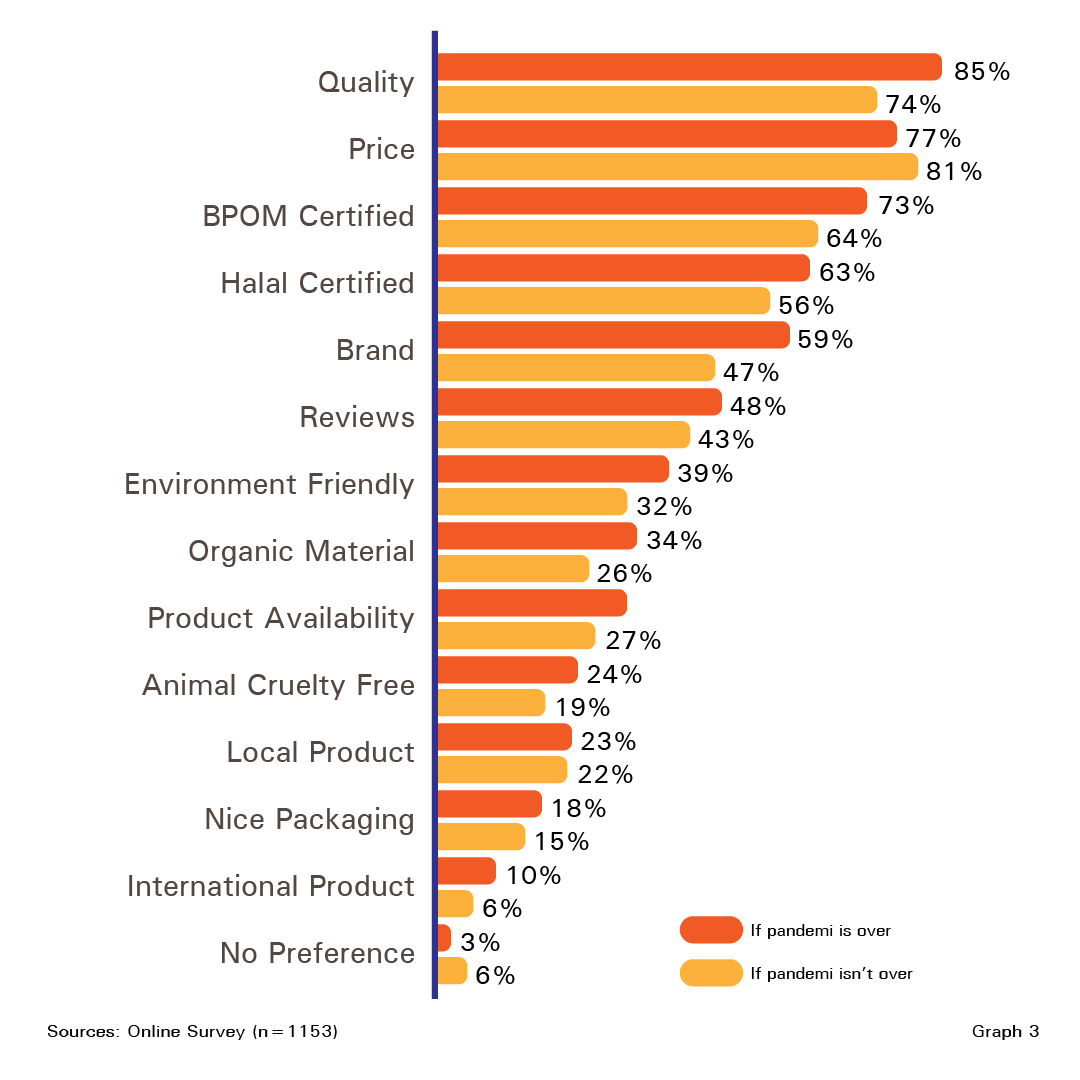 Pandemic make all circles really take into account the expenses they make, not the exceptions of women. So, what about spending for their body treatment? Do they have their own considerations?
From the third graph above, shows the various considerations that women have before buying the body treatment products they need. The two different colors on the chart explain how much women are willing to buy their body treatment products after the pandemic has ended or if the pandemic has not ended. This is related to the calculation of expenses previously mentioned.
An interesting finding or insight that can be useful for brands from the third graph above are the various considerations that women have just before buying the body treatment products they need.
Considerations such as quality, price, safe certification from BPOM to halal certification are the main things that are seen by women. However, this does not make the brand have to focus on these four main considerations because there are many variations below that can be a separate reference in forming a persuasive way for women to buy body treatment products from the brand.
Then What Can Brands Do?
There are many things that brands can do with products to attract the attention of their target audience. As in the first graph, which shows the various fundamental things that women feel on their skin or body.
This can be a reference for brands to sharpen product communication when creating advertisements or other marketing materials. Brands can create messages to sell to their target audience by leveraging these insights. For example, a brand could focus on communication messages such as "able to completely treat dry skin", "remove skin discoloration", or "disguise dark skin tone perfectly".
Then, related to various kinds of considerations as described in the third graph, these considerations can also be a reference for brands in sharpening their persuasive communication to the target audience.
As shown in the third graph, where considerations such as "environmentally friendly products", "products using organic materials", to "animal cruelty free products" can be used as messages with different values in product communication. By using this kind of communication, it is expected that the target audience of brand will think that the product from the brand is the solution they need.
For more information contact us here or visit us in stratx.id.